Joomla is an open source Content Management System (CMS), which is used to build websites and online applications. It is free and extendable which is separated into front-end and back-end templates. Joomla is developed using PHP, Object Oriented Programming, software design patterns and MySQL.
---
Features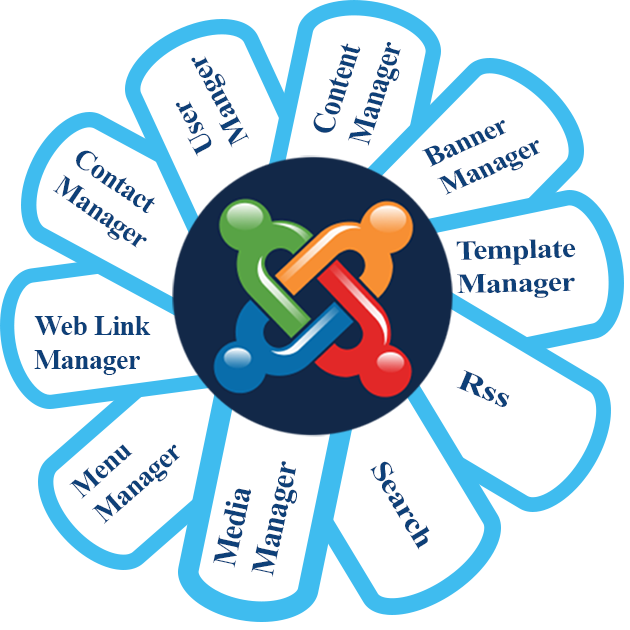 User Manager − It allows managing the user information such as permission to edit, access, publish, create or delete the user, change the password and languages. The main part of the user manager is Authentication.
Content Manager − It allows managing the content using WYSIWYG editor to create or edit the content in a very simple way.
Banner Manager − It is used to add or edit the banners on the website.
Template Manager − It manages the designs that are used on the website. The templates can be implemented without changing the content structure within a few seconds.
Media Manager − It is the tool for managing the media files and folder in which you can easily upload, organize and manage your media files into your article editor tool.
Contact Manager − It allows to add contacts, managing the contact information of the particular users.
Web Link Manager − The link resource is provided for user of the site and can be sorted into categories.
Search − It allows users to search the appropriate information on the site. You can use smart indexing, advanced search options, auto suggest searches to make Joomla search best.
Menu Manager − It allows to create menus and menu items and can be managed subsequently. You can put menu in any style and in multiple places.
RSS − It stands for Really Simple syndication which helps your site contents and RSS files to be automatically updated.
---
Advantages of Joomla
It is an open source platform and available for free.
Joomla is designed to be easy to install and set up even if you're not an advanced user.
clients can easily manage their sites on their own.
It is very easy to edit the content as it uses WYSIWYG editor.
It ensures the safety of data content and doesn't allow anyone to edit the data.
By default, Joomla is compatible with all browsers.
The templates are very flexible to use.
Media files can be uploaded easily in the article editor tool.
Provides easy menu creation tool.
---
We're Professionals To Grow Your Business!